Welcome!
Scroll down some more for an excerpt from my popular novel Undercover Amish. Click here to check out my four bestselling books on Amazon!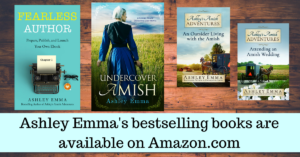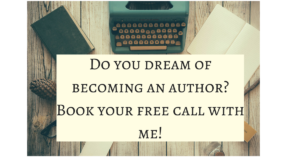 – Have you written a book you're not sure what to do with, or would you like help writing one that you want to self-publish?
– Do you want to write and publish a book to build your business and establish yourself as an expert in your niche, bringing you high-ticket clients regularly on autopilot?
– Does the whole self-publishing process boggle your brain, or do you want to learn more about how you can publish your own book?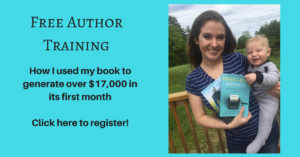 Announcement:
Fearless Publishing House is now accepting book submissions (no agent required).
Hi, I'm multi-bestselling author Ashley Emma and I want to help you outline, write, publish, launch, and market your own book on Amazon!
If you haven't ever thought of writing a book, you should! Why?
It can establish you as an authority figure in your career (it is the ultimate business card) and put you lightyears ahead of your competitors
It can bring you quality, high-paying clients regularly on autopilot
Even if you hate writing, you can still produce a book by speaking into your phone's recorder, then having someone type it up for you. This can be done in only a few hours!
It will be the legacy you leave behind for your grandchildren and great grandchildren.
What you have to teach or the story you want to tell can help thousands of people.
Your book can bring in passive income for you year after year that you can eventually leave to your children or grandchildren.
It doesn't have to be a long book–in fact, many people prefer short books because they don't have much time to read.
If you're interested, click the link below set up your free 20 minute strategy session to see if we'd be a good fit, then you will receive directions on how to submit your book for evaluation if you have one. There's no pressure to book anything else with me on this call. If you already have a book on Kindle, I can evaluate it and give you feedback on how to sell more copies. If you have an idea for a book, I'll let you know what I think of it. The possibilities are endless!
Fearless Publishing House may be the right choice for you if:
You don't want to waste time and money figuring out how to make your book a bestseller
You want to take accelerated route on the journey to bestseller status
You want an expert to publish your book with you while you keep all the rights and royalties
You want complete control over your work while having someone to help you through the publishing process
You need help writing or marketing your book
You want coaching on writing, marketing and publishing
Or you may want a complete done-for-you publishing and marketing package
What are you waiting for?
***
Excerpt of Undercover Amish
"Olivia, come see me in my office." Captain Branson took a swig of his coffee and nodded his balding head toward his office door at Covert Police Detectives Unit headquarters in Portland, Maine. Bodyguards, police officers, special agents, and detectives worked in this building together, making it different and separate from other police stations. They had their own sets of rules and followed their own unique procedures, jargon, and standards. These were some of the things Liv loved about this place.
"In a minute. I'm just—"
"Now, Liv!" he shouted and disappeared into the office.
With a sigh, she closed the vacation website on her laptop and put the gorgeous images of the Bahamas out of her mind. She finally got a minute to herself at her desk, and now Branson wanted to talk. She picked herself up and stepped into his office, wondering what she had done wrong. Had she forgotten to label evidence or wipe out the microwave in the break room? Or was it the prank she played on Jeff last week?
Man, she had gotten him good.
"Have a seat."
It had to have been the prank. Maybe putting a fake snake in his car had been too much.
"What's up, Captain?" She plopped into one of his chairs. A feeling of dread began to creep over her. Maybe she actually was in trouble.
He settled in his chair and pulled it forward, his round belly pressed up against the desk. "I have an undercover assignment for you."
At least she wasn't in trouble.
"Captain, with all due respect, you know I was planning on going on a vacation soon."
"Liv, I need you for this one. No one else will do." He adjusted his glasses and handed her pictures of a crime scene. "Bill Sullivan was shot and killed in his barn last night in Unity, Maine. He was an Amish man in his fifties. Someone outside the community reported this."
Shock ricocheted throughout her system. A crime in Unity? Her heart sank, even if she had never really liked the man much. "I knew this man when I lived there. He was my father-in-law."
"I'm sorry," Branson said.
"We weren't exactly chummy, but still…" She stared at the photos in disbelief, dozens of questions spiraling in her head. Liv had never witnessed any violence in her community except for her husband's abuse and the arsonist who had killed her family. Usually Amish communities were peaceful, but sometimes criminals or rowdy teenagers liked to take advantage of the fact that the Amish didn't report crimes like vandalism or arson…or murder.
Was the rest of the community all right? Had anyone else been injured?
Wait…no!
"You want me to go there, don't you?" She was ready to argue her way out of this one. She slammed her palms down on his desk as she stood. "You know I never want to go there ever again."
"Liv, calm down. I know it's against the Amish way to give police any information. But we need to find this killer, and you grew up Amish. If I send any of my other detectives there, they'll stand right out. Besides, they don't know anything about the Amish, and they won't be able to blend in unnoticed. I need you to go there and act like you're one of them again. The killer won't even know the crime was reported or that we are onto him. Can't you just ask to rejoin the church?"
"It's really not that simple." She crossed her arms, looked away, and plopped back down in her chair.
"Why not? Just tell them you want to come back like old times."
"I'm shunned. When people leave, they are shunned. That means no one will speak a word to me unless I repent before the church, beg for forgiveness, and act like I sincerely want to become Amish again." She shuddered at the thought.
"Then do it. Whatever it takes. Since the community in Unity won't accept the help of the police or answer our questions, we think the only way to help these people is for you to go there covertly and investigate without them even knowing it. And the killer will have no idea. No one from their community even reported this crime or planned to. An outsider found out through some gossip and reported it. One of the customers of the community store."
"I know they don't ask the police for help. They believe everything is God's will, and they leave the vengeance to Him. I'm just not sure they'll welcome me back as easily as you think they will."
"Come on. Aren't they nice, forgiving people?"
"They are, but…" She shut her eyes and saw the flames engulfing her home with her parents and siblings dying inside. The arsonist was never found. The elders had told her not to report the crime or look for the man who had murdered her family because their way was to forgive and move on.
But she had held on to the bitterness. She couldn't forgive the killer.
And now she had to go back there? To the place where her family had been killed and her husband had abused her?
Her heart clenched at the thought of returning to her hometown. She hadn't been there in six years. And she had not left on good terms. It wouldn't be as easy as Branson thought it would be. She couldn't just waltz into the community and ask to be forgiven for leaving, could she?
And for killing Jake in self-defense? She didn't think so. All those memories would come rushing back, and it would be too much to deal with. Bile rose in her throat at the thought of returning.
"I can't do this, Captain. I'll do anything else. Send me on a dangerous mission. I don't care. Just don't make me do this. Please." She leaned forward in her chair, put her nice face on, and pleaded with wide-open eyes. "I'd rather run through gunfire than go back there. I'd rather die."
Branson shook his head firmly. "Don't be so dramatic, Liv. If you want your vacation time—if you want your job—you have to do this."
"My job?" A feeling of dread and panic settled over her. Her job was everything to her. She had no life outside of work.
"Look, Liv. Our funds have been reduced, and we have been forced to make cuts. You're a great detective, but you're one of the newer ones. Some of our people have been here ten or fifteen years. The board would pick you as the first to go if we have to lay people off. So if you do this mission and prove yourself worthy, you would make them reconsider."
She'd rather rot in jail than go back there. She scowled.
"Olivia. I need you to do this."
She gave him a sideways look.
"I'll give you an extra week of vacation time if you go tomorrow and stay until this killer is caught."
"Seriously?" Her eyebrows rose as her interest piqued.
"Don't you go telling anyone. Consider it a bonus for a job well done. I don't know much about what your history is with that place. I'm sorry if this is personal, but don't let it be. Just do your job and you'll be on the beach sipping a margarita before you know it."
"I don't drink."
"Whatever. Just imagine this—two weeks in the Bahamas, and you don't have to talk to me the entire time."
She nodded slowly, smiling. Sounded like paradise. "How'd you know I want to go there?"
"I've got ears everywhere." He chuckled and leaned back in his chair.
Jeff must have talked to him.
"Okay, fine. If it will help save lives and catch the killer, I'll do it."
"One more thing. Isaac Troyer, a thirty-year-old Amish man, was also attacked last night. Blunt force trauma to the head. He had traces of wood in his wounds, which were from whatever he was rendered unconscious with." He slid another photo toward her.
Isaac? Her mind screamed at the image of the man she had once loved. She jumped back from the photo as if she had been burned on a hot wood stove.
"He was then left on one of the lanes in the community near his house, unconscious, until a Sid Hoffman brought him to the local hospital. Since this happened on the same night as the murder, we think he was possibly a witness to the crime. You need to covertly protect him, since the Amish won't accept police protection, and he could be the perp's next target. The thing is, Troyer has localized amnesia. He can't remember what happened the night he was assaulted, but keep asking him questions without being obvious. Once you take him home, he might remember more of what happened."
Could this get any worse? She had to take him back to Unity and protect him? Him of all people?
How was she going to act normal around him, try to get information from him, and protect him during what would be the most awkward encounter of her entire life? She had asked him to run away with her and leave the church, but he had refused and broken her heart. Spontaneous butterflies erupted in her stomach at the thought of him, but she ignored them.
How would he react to her?
The last time she had seen him she had kissed him. Right after her husband had died. After that, he had testified on her behalf during her trial. The jury had acquitted her, finding she had acted in self-defense once they saw the evidence—her bruised neck and other injuries, some of which were older and had not properly healed. Because she had left the church after Jake's death, she had reported what had happened to the police herself, knowing she'd be found innocent.
After the verdict, she hadn't had the courage to speak to him. All she had been able to do was give him a small smile, silently thanking him for testifying before a swarm of news reporters surrounded her, all wanting more details about the Amish woman who had killed her husband in self-defense.
"What's the matter? You know him too?" Branson asked.
"Yeah, I do."
"Are you okay?"
"Yes, Captain."
"You sure? Anything I should know about?"
"I dated him a long time ago when I was a teenager. That's all."
"Okay, that actually works in our favor. Since he is a potential witness, we need you to go talk to him. Rekindle your relationship with him, whatever it was you shared, and drive him back home. The closer you get, the better. Stick to him like glue. If he is a witness, he needs your protection."
Like glue? Really? She let her head drop in her hands dramatically.
"Okay, Liv?" Branson prodded, leaning forward and slightly raising his voice.
"Okay." She sighed heavily.
The Bahamas would have to wait.
"Hey, I know this is none of my business either, but I know a little bit of what happened there, how you killed your husband in self-defense."
"Yeah. I did."
"Why? What did he do? If I may ask."
Could he get any nosier?
"After abusing me for three years, he tried to choke me to death, so I stabbed him," Olivia said emotionlessly. "I had no choice. The community didn't report it. I did, because I was innocent. And the jury and judge agreed once they saw the evidence and heard the testimonies." She stood up and walked out of the office, leaving her boss wide-eyed.
*
>>Buy Undercover Amish here!<<
Detective Olivia Mast would rather run through gunfire than return to her former Amish community in Unity, Maine. But when her captain gives her orders to investigate a murder, she begrudgingly dons her prayer kapp and goes undercover while protecting the handsome farmhand she dated as a teen, Isaac Troyer. When he finds out that she is a detective, will he reject her or break Amish rules to help her arrest the killer?
Welcome to AshleyEmmaAuthor.com. I'm so excited to announce Undercover Amish is officially a BEST SELLER! It has around 100+ reviews and a 4.5 star review average. People are saying they couldn't put it down, they loved the mix of the police world and the Amish world, and they can't wait for the sequel that is coming soon. (These books don't have to be read in order and can also be stand alone novels. You also do not need a Kindle to read my eBooks. Just download the free Kindle app on your phone, tablet or laptop. Email me at amishbookwriter@gmail.com if you have questions!
Here are just a FEW of the raving 100+ reviews for Undercover Amish:
"Buy this book! It's a five-star read in my opinion. Whether you have ever read Amish detective stories before or not, I know you'll like this one and be totally engaged from start to finish. The characters are well-developed, unique, quirky and three-dimensional. I enjoyed the author giving her readers an inside view of the Amish community, especially during dangerous and unpredictable times. I eagerly await the sequel to this novel!" -Wendy Pearson, moderator of The Write Practice
"I love a good mystery and this one has an interesting storyline. A relatively short read and kept me engaged and trying to guess the next twist. This is the kind of book I love to have when traveling or for an afternoon at the beach." -C.L. Ferrari, bestselling author of Enriching Your Retirement
"Ashley Emma has crafted an intriguing crime mystery with a surprising twist. I didn't see that ending coming at all. And I'm a little jealous. Once I got into this book, I couldn't put it down." -Michael Wilkinson, bestselling author of A Father's Guide to Raising Daughters
"I really enjoyed this book, right through the last page!! Undercover Amish is a compelling read that will keep you going until the very end! The only disappointing thing for me about Undercover Amish was when the story ended—I already miss the main characters!" -Sue M Wilson, author of Home Matters 
*
Get your copy of Undercover Amish before the price goes up! If you want some free ebooks and would like beta reading opportunities, sign up at the bottom of the page or in the pop up to get three of my other ebooks for free!
>>Buy Undercover Amish here before the price goes up!<< 
****
For my readers, see the top of this page for my Blog posts. These cover many topics from when I lived with the Amish, to my Amish photographs, and more information about my books!
I'd love it if you join my email list (see the bottom of the page, My Books listed above, or Chapters from my Books for the sign up form), and I will make it worth your while. I will send you three of my eBooks for free! I hate spam and won't send you an email unless I have a big announcement like a new book release.
Finding Forgiveness isn't sold ANYWHERE right now and is an exclusive offer only for my subscribers.
So, you are one of the first people to read it before I make it available worldwide!
Ashley's Amish Adventure has a 4.5 star review average on Amazon. It has sold hundreds more copies than any of my other books until Undercover Amish.
I hope you enjoy them!